[vc_row][vc_column][vc_column_text]Talking to me has been everywhere, from New York to Strömstad, and now we are adding Cairo to the list (and it might just be our favourite).
Together with the Swedish Institute, we have been invited together with six other start-ups and alumnis from the leadership program – She Entrepreneurs – to attend the Rise Up Summit 2019, which is the MENA region's largest innovation and entrepreneurship summit with over 10,000 attendees. Yesterday we were invited to the Swedish Embassy to meet the Swedish ambassador of Egypt, to talk about the work Sweden do in Cairo, the role of entrepreneurship in the two countries and what we can do better. Of course, we also brought up the question of gender equality and diversity, and challenged the ambassador a bit in regards to Sweden's role..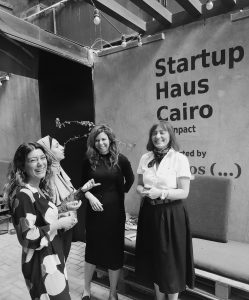 We also visited the Startup Haus in Cairo, which is like our little Changers Hub but in Cairo (<3).  Startup Haus was established by enpact Egypt with the support of Drosos Foundation and their role is to promote entrepreneurship and supporting the local ecosystem, and you'll definitely hear more about them from us!
Now, we are excited to kickoff the day that is packed with great speakers and workshops surrounding tech, creativity and growth at the Rise Up Summit, and from the little we saw on the opening ceremony yesterday, we must say we are super excited. This just might be the biggest and best put together conference we've been to. Stay tuned for more updates!
[/vc_column_text][/vc_column][/vc_row]