We just finished off another successful seminar at Changers Hub Sture where we did a recap of the Voice related news from Google I/O, Google's annual developer conference in Mountain View. Curious about what we talked about? Make sure to continue reading!
Google I/O is an annual developer conference held by Google in Mountain View, California, that brings together developers from
around the globe for a first look at Google's latest developer products and services. Talking to me held a breakfast seminar where we focused on the latest updates within the Voice area and found that, once again, Voice was a hot topic for Google.
First and foremost, we see how Google is shifting their position from helping their users to find answers to get things done, which was stated by Sundar Pinchai, Google's CEO. There is also a big shift from working with text as the primarily interface to having Voice replacing it and one way of doing that, is to let the Google Assistant be central part of their products.
So what's new? Nobody has probably missed their new take on smart speakers with Nest Hub, a smart speaker with a 7-inch voice-controlled display that can complement the speaker with visual information. With its many functions, such as controlling all your smart devices from the screen, ask for recipes, play music and manage your calendar (just to mention a few), it helps making your life a bit easier. And more help is on the way with the upcoming Nest Hub Max that's being launched this summer in the U.S, UK and Australia. Fingers crossed they'll arrive to Sweden soon too…
Another important release is the Google Pixel 3a and Pixel 3a XL, a cheaper alternative to the Pixel 3 Duo that was launched last fall. In the Google Pixel 3a you find a 12,2-megapixel camera with a battery that lasts around 15-16 hours, and, of course, the Google Assistant fully integrated, which enables you to multitask between applications and now works 10 times faster – an upgrade that can be experienced through all devices where the assistant is integrated.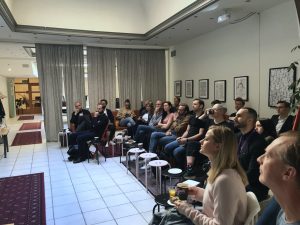 Last but not least, Google is launching Duplex on the Web, which will expand beyond phones and smart speakers to the web. To begin with, Duplex will focus on helping the user to book cars and buy movie tickets, but the plan is to extend it further. If you want to book a car for your next trip, Duplex will be able to fill in the necessary information in the form on your behalf by being connected to your calendar, email and other necessary sources of information.
It's interesting to see Google taking the AI and Innovation lead ahead of Apple, who has been in the forefront for years. Time will tell if Apple will catch up, and we are excited to see what Apple releases on their developer conference next week on the 3rd of June.